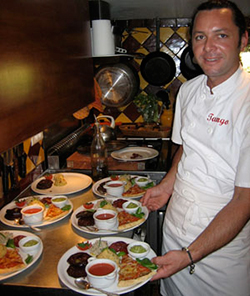 Cuisine served aboard your luxury barge focuses on the rich culinary tradition of the cruising area, the Languedoc. A Mediterranean climate provides sun ripened fruits, vegetables, olive oil and herbs, while the robust traditional fare of the Southwest offers foie gras, duck and tender lamb from the Pyrenees. A fantastic choice of fine cheeses and increasingly prominent wines from vineyards once favoured by the Romans complete each meal.
Your chef, a graduate of the French National Cooking School in Beaune, oversees the preparation of your meals when aboard your luxury barge. He welcomes guests with a strong interest in cooking and are happy to share recipes, techniques and philosophy on fine dining. All of the meals prepared on board your luxury barge are made with garden market produce bought daily, the best quality meats and poultry from the farms of the Southwest of France, and fresh Mediterranean seafood and fish.
Petit Déjeuner - Each morning risers are greeted by a smiling hostess serving freshly squeezed orange juice, warm freshly baked baguettes and croissants from the boulangerie, locally homemade jams, cereals, fresh fruit, yogurts, café au lait, decaf or regular coffee, teas, hot chocolate and eggs for protein breakfasts.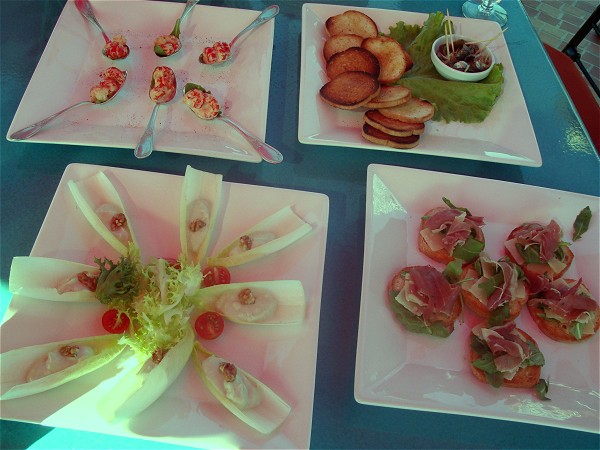 Midi - Wonderful salads, soufflés, quiches, charcuterie, soups, barge made fresh pasta, pizzas and tartes are prepared along with specialties from the farmer's markets such as the olive and cheese 'cakes'. The fish mongers of the 100 year old covered market of Narbonne provide seafood for paella, monk fish, mussel 'bourride' and seafood spaghetti. Cheese platters complete the mid day feast and of course the choice of chilled rosé, white and red wines.
Favourite lunch - Salade Niçoise, as colourful as delicious, nothing missing down to the just tender fresh green beans and capers. Flaky pastry tarte topped with caramalized onions, roasted figues, melted goat's cheese laced with honey and herbes de Provence.
Soir - Each evening an entrée featuring seasonal produce and local delicacies will be a light and delicious 'mise en appetit' to enhance your appetite. Hearty and flavoursome main courses dressed up and served in fine style either alfresco on deck or on candlelit tables making each evening a romantic slow food delight. Desserts are composed of the great French classics, rich and divine.
Le Vin - During your cruise you will have the occasion to visit some of the Chateau wine domaines of the vineyards that stretch as far as the eye can see through which the Canal cruises. Each meal will introduce you to the region's fine red and white wines as you 'deguste' the excellent Corbieres and Minervois. A careful selection both from the sandy soils of the Mediterranean coast to the rich reds of the sundrenched inland valleys and foothills will be matched with the dishes prepared by the chef. There is also the 'champagne' of Limoux, which will be served as a chilled aperitif.