LUXURY HOTEL BARGE "T"
THE BARGE, THE CREW, AND THE ACCOMMODATION

Personalised Luxury Cruise
With the Atmosphere of 1930's French Passenger Liners
4 Ensuite Cabins and Sun-Deck with Hot Tub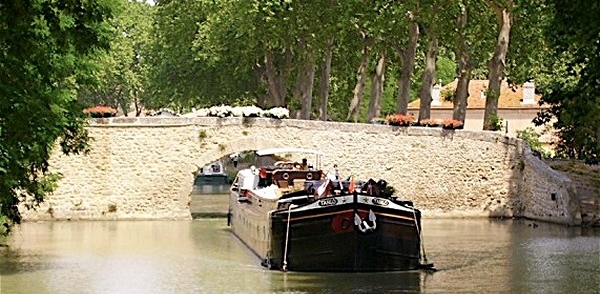 Built in 1931, this gorgeous barge initially navigated on the canals of North Eastern France. In the 1950's she sailed south and was used to transport grain between the Atlantic and Mediterranean ports.

She is now a deluxe charter barge for up to eight guests.
SUMMARY INFORMATION FOR THIS FINE CANAL DU MIDI BARGE
LOCATION : Canal du Midi, South of France


Passengers: 8
Crew: 4
Cabins: Large suite (190 sq ft), 2 smaller cabins (90 sq ft), with twin beds or queen bed, and "Captain's Cabin" (196 sq ft) with separate entrance and king-size bed, all with ensuite bathroom with shower.
Barge Size:
100 ft x 16 ft (30.5m x 5m)
On-Board Hot Tub:
Heated, 7 ft+ (2m+) diameter
Cabin Facilities:
Queen size beds or can be configured as twin beds on request. Beautifully equipped. Two larger and two smaller cabins.

Living & Dining Room:

Large spacious salon, sofas, large dining table, piano.
Living Room Facilities:
DVD player, CD player, books, games, Internet access with Wifi.
Decks:
Two large decks, one with hot tub and lounge chairs, the other with al fresco dining area.
Other facilities:
Air-conditioning, heating, 6 bicycles on board, 220V electrical supply.
ABOUT THE 'FEEL' OF THIS BARGE
The décor is a delight in all its details. Large brass portholes and opening skylights throughout the vessel provide fresh circulating air and light. French art deco fixtures, Provençal ivory linens, and rich teak wall panelling recreate the atmosphere of 1930's French passenger liners.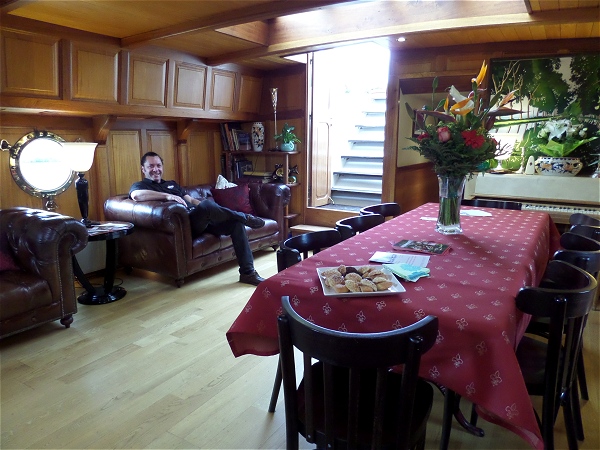 Up on deck, two terraces provide space for al fresco dining, and a sundeck with hot tub. The large salon with soft yellow leather sofas, bar and dining room, provides the perfect space for congregating for after-dinner drinks and conversation.
SUN DECK
Teak exterior dining suite, Dimension One Spa hot-tub.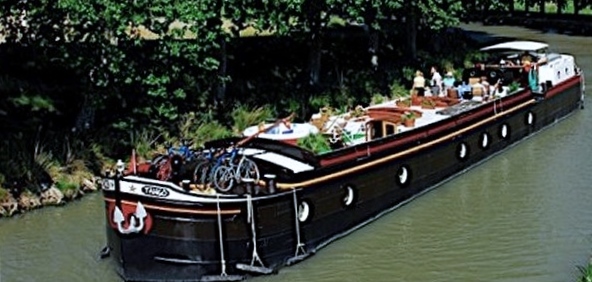 THE CABINS
The Van Gogh, Cezanne, and Renoir cabins can be made up with twin or queen beds. The ensuite bathrooms in all cabins feature hand-made Provençal tiles designed by Alain Vagh, of Salernes.

The "Captain's Cabin" has its own entrance onto the main deck, and is exquisitely fitted with the original mahogany panelling and cabinets. It features a separate bedroom with king-size bed, dressing room and ensuite bath. The Captain's cabin is only available for private charters of eight passengers, or on individual cabin weeks.
FINE DINING
The Chef, a graduate of the French National Cooking School in Burgundy, oversees the preparation of your meals when aboard. He welcomes guests with a strong interest in cooking and is happy to share recipes, techniques and philosophy on fine dining.
Cuisine served aboard Barge "T" focuses on the rich culinary tradition of the cruising area, the Languedoc. A Mediterranean climate provides sun ripened fruits, vegetables, olive oil and herbs, while the robust traditional fare of the Southwest offers foie gras, duck and tender lamb from the Pyrenees.

A fantastic choice of fine cheeses and increasingly prominent wines from vineyards once favored by the Romans complete each meal. All of the meals prepared on board are made with garden fresh produce bought daily at the local markets along the route, the best quality meats and poultry from the farms of the Southwest of France, and fresh Mediterranean seafood and fish.
---
YOUR HOST
The French Owner / Captain continues his family tradition of excellence in barging. An experienced pilot, he also oversees the culinary details onboard, selecting the wines, and making certain the overall experience of your cruise more than meets your expectations.

When commercial barging ceased in the 1980's, this barge was retired in a small canal-side village. The Captain had seen the barge abandoned as a child, when navigating with his mother. He always said it was the only barge he wanted to own. In the year 2000 that dream came true, when he purchased and lovingly converted her into the deluxe charter barge you see today.
YOUR CREW
Your knowledgeable, English-speaking crew will see to your every comfort during your cruise. Your friendly hostess makes sure cabins are tidy, beds made, and towels fresh each morning. Your chef prepares gourmet feasts using the finest local produce, seafood, artisanal cheeses, pates, and seasonal fresh fruits. Your tour guide escorts your group on daily excursions in an air-conditioned minibus, taking in local history, wine-tasting, shopping, and site-seeing. And of course your Captain is at the wheel as your lovely barge cruises along the canal and navigates through the locks.
YOUR CRUISE
Your cruise includes six nights accommodation in your own private Twin or Queen-bedded cabin with elegant en suite bath, all meals, including one meal at a local restaurant for either lunch or dinner, fine regional local wines, open bar, chauffeur-guided daily sightseeing, transfers to and from the barge in the cruising area, and use of barge amenities including bicycles and spa.