Rental of the "PLATINUM range" of boats and barges - Canal du Midi and Burgundy

PRICES ARE IN EUROS FOR 2017

ALL PRICES ARE FOR EACH BOAT OR BARGE FOR 7 NIGHTS. OTHER HIRE PERIODS ARE AVAILABLE.
(Convert to other currencies here.)
We know the boat fleet operators well.
We'll help you to choose, then you pay the operators direct with no mark-up from us.
So you will not find prices cheaper on another website!

Sometimes we can offer discounts for certain boats at certain times and there are special discounts too.



Please ALSO read "What is Included" below the table of prices!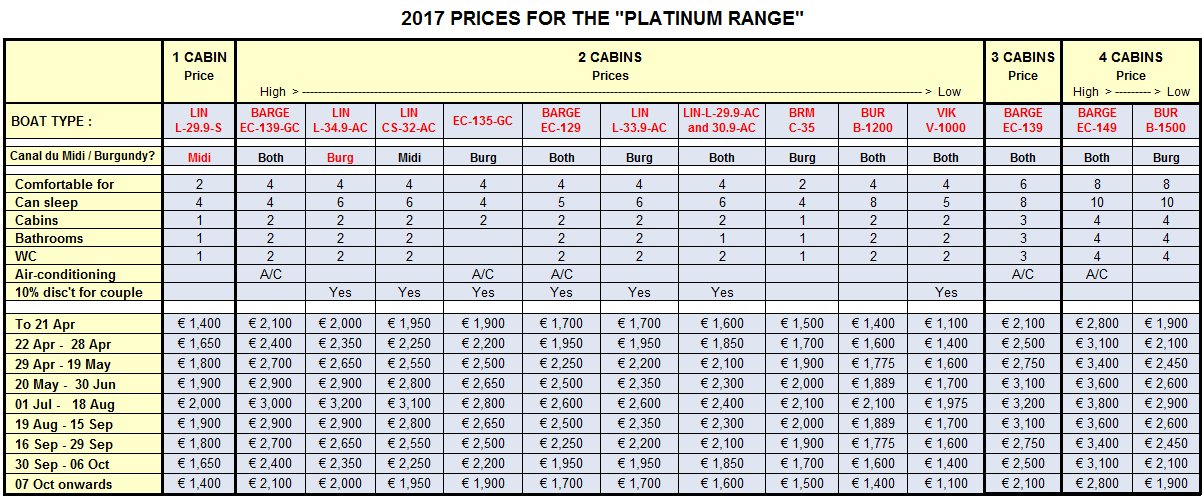 Friendly, efficient, and personal service
Everything in English
All your contact details kept private
Professional, relaxed, and no 'chasing'
Great choices and advice
Local, direct prices

7 years of happy clients from all continents of the World
NOTES TO THE PRICES
The rates include :
The hire of the boat
Boat Insurance
Linen: sheet, blanket or duvet, pillow and pillow cases, towels
1 gas bottle per week
Navigation, boat and lock instruction
Introductory cruise to ensure that you can happily control the boat, information on passing through a lock.
Temporary Captain's Licence valid for the duration of your cruise
All lock charges
Technical assistance 7 days a week from 9am to 7pm
Secure parking in public car park
Crockery, cutlery, pans, etc
Deck furniture with table and chairs
Sun umbrella or other canopy for outside
Start and finish times : Normally Friday, Saturday and Monday start days are possible. Pick up time is 15.00 (3pm) and return is 09.00 (9am) on the final day.
There is only ONE compulsory extra
Navigation Hourly Rate - This covers fuel, gas, and a contribution towards the lock fees.
€7-9 per hour depending on the boat. Please assume about 20-30 hours cruising per week.

Then there are Security Deposits, refunded if unused - one for the boat : €800-1000; and one for cleaning : €80-100, deducted if the boat comes back not cleaned.

Everything else is your choice! :)
Collision Damage Waiver (CDW) - You can replace the Security Deposit with a non-refundable CDW fee. This covers any accidental damage to the boat and leaves you free to enjoy your cruise. Please note that this covers only the boat, not extra rented items such as BBQs, bikes, etc. But at least you know the boat is covered!
Cost of CDW for 7 days is 10%
Cost of CDW for 8-14 days is 15%
Cost of CDW for 15+ days is 20%
Your own holiday, health and cancellation insurance.
Supplement for one-way cruise @ €105-€150
Bikes @ €40 per week each.
Pets @ €35 per week each.
Detailed canal map @ €25.
Food and drink pack - please ask.
Transfers from train stations and airports - we can provide this service, please ask.
Coal barbecue @ €25 per week. Charcoal, firelighters, matches - please ask. Gas barbecue @ €40 per week.
Sara's Easy Guide to Choosing Your Boat-Hire Holiday in France!
Please note: The organisation and layout of all information on this website in relation to canal boats is copyright Big Hugsy Websites 2008-2017